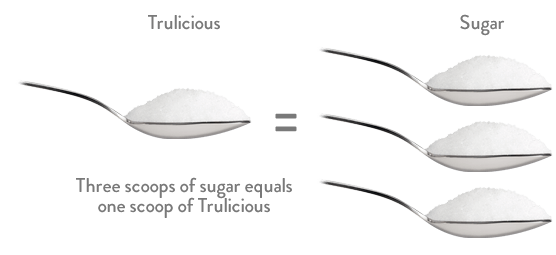 Finally, a Truly-Delicious
Natural Sweetener
What makes Trulicious Unique –
Our goal is to replace these unhealthy choices with smooth, low-calorie Trulicious to cut dependency on sugar and help end the obesity epidemic.
Reasons People Choose Trulicious
3 times as sweet as sugar – no bitter aftertaste
Low-calorie & low glycemic index
Contains prebiotics and fiber for added health benefits
"Trulicious stevia is the best stevia I have ever tried. It doesn't have the awful aftertaste that Truvia or Stevia in the Raw have. I love it!"

–Lowery
Sweetener without the guilt!
Three times sweeter than sugar, we carefully formulated Trulicious with the perfect balance of Erythritol, Stevia and Monk Fruit. Giving you a sweet and smooth flavor that artificial sweeteners and Stevia alone can not produce. Whether you use it in coffee, tea, cookies, other treats or just as a general replacement for sugar, you'll love the great taste of Trulicious.
Why use Trulicious Powder Sweetener?
Well, that's easy! Trulicious is truly delicious. Taste DOES matter, and Blue Earth Nutrition wanted to make a sweetener that was not only all natural but also the best tasting sugar alternative available. The proprietary blend of 99% pure Stevia, Erythritol, and Monk Fruit is simple, clean and affordable at a 3:1 sweetness ratio to sugar. The benefits of Stevia for health conscious individuals, diabetics and others seeking improved weight management has been long known around the world.
What are the Benefits of Trulicious Sweeteners?
• Great for any diet
• 99% Pure Stevia extract assures the finest taste and no aftertaste which is often associated with cheaper Stevia extracts found in other blends
• It is the perfect blend of Stevia, Erythritol and Monk Fruit to create a unique taste along with increased health benefits. Stevia & Erythritol support good dental health & a healthy glyemic index,Monk fruit (also known as Luo Han) supports healthy digestion & weight management
• Three times sweeter than sugar—Just follow the serving size directions or flavor to taste
• 100 Servings per package
• Low calorie–add sweetness & flavor without the guilt. Satisfy your craving for sweets so you're not tempted to cheat on your diet
• Perfectly safe for diabetics to enjoy
• Add sweet flavor to any snack, drink or food with only a small amount of Trulicious sweetener
• Enjoy sweet taste without sacrificing your health
• Made with Vegan-friendly ingredients
• All-natural and free from additives
Nutrition Facts
Serving Size 2.3g
Servings Per Container 100
---
Amount Per Serving
Calories 0
Calories from Fat 0
% Daily Value*
Trans Fat 0g
Total Carbohydrate 2.3g
1%
Sugars 0g
Protein 0g
---
† Daily Value not established † %
*Percent Daily Values are based on a 2,000 calorie diet. Your daily values may be higher or lower depending on your calorie needs.
Other Ingredients:  Vegetable Erythritol, Stevia Rebiana, Monk Fruit
Directions and Use: use to taste.
This is a Blue Earth Nutrition Product.
Blue Earth Nutrition continues to be a leader in the natural supplements market with innovative formulas and a commitment to providing the best supplements to those that care enough to give their best. Blue Earth Nutrition products are designed and formulated with the latest nutritional science to ensure appropriate potency and optimal combinations for absorption, utility and effectiveness.