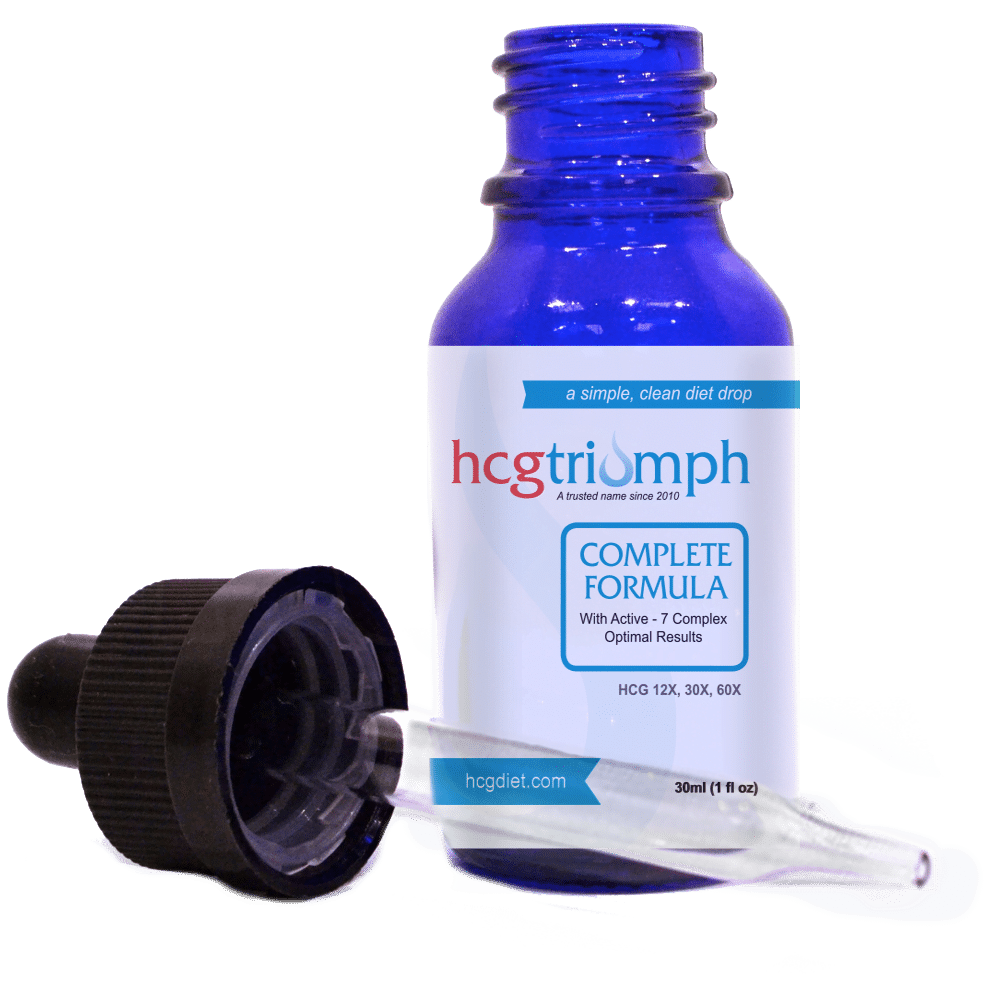 The blue bottles are the newest addition to the Triumph product line! New Blue HCG and HCG Triumph Drops both have the HCG hormone. The only difference is the blend of Amino acids. The blue bottle has three high concentrations of Amino acids and the original HCG Triumph Drops blend had eight. What makes both formulas aeffectiveeffective is the presence of the hormone. According to Dr. Simeon, a minimum of 26-days taking HCG drops triggers the Hypothalamus, which is the gland in your body that send a signal to your body to release the stored fat cells it has stored up. Our HCG Triumph customers have reported that they have lost an average of 20-25 pounds with our 26-day kit or 35-40 pounds by using our 40-day kit in combination with the diet protocol.
New Blue HCG Triumph Drops
L-arginine – A chemical building block called "an amino acid." It is obtained from the diet and is necessary for the body to make proteins. L-arginine is found in red meat, poultry, fish, and dairy products. L-arginine is used along with ibuprofen for migraine headaches; with other amino acids for treating weight loss.L-arginine is converted in the body into a chemical called nitric oxide. Nitric oxide causes blood vessels to open wider for improved blood flow. L-arginine also stimulates the release of growth hormone, insulin, and other substances in the body.
Acetyl-L-carnitine – An amino acid (a building block for proteins) that is naturally produced in the body. Acetyl-L-carnitine helps the body produce energy. It is important for heart and brain function, muscle movement, and many other body processes.
L-Ornithine –  A potent amino acid for stimulating the production and release of Human Growth Hormone from the pituitary gland. HGH is a powerful rejuvenation . Studies of L-Ornithine have shown the ability to regenerate the thymus gland, liver, and heart tissue, enhance muscle growth, and increase immune system function.
You Might Also Like
---
HCG Drops or Injections: Which One Works Best
---
We have had many calls and emails sent in asking which one is better? The original formula  or the New Blue kit. I have had good responses from all our customers that have used both products with success, so it's hard for me to say which is better. It depends on how much weight you need to lose and what you are comfortable with. If you liked the original blend then I would get a 40 day refill of the original blend, but if you want to try the new blend the blue bottle is awesome and is our most popular kit that we sell. At HCGDiet.com we are constantly trying to improve our formulas to ensure that we have the best products available to our clients. From time to time they will change, but we will always  keep you updated on those changes as they happen. We have a wonderful customer support team that is happy to answer any further questions you have so feel free to call or email us at [email protected] if you have more questions.
Start Your Weight Loss Journey Today!
---
Click here to shop for the HCG Diet 26 Day Kit
---