Cutting down on sugar is becoming the reality of most health conscious people. This can be a tough task, but luckly stevia is a natural, low calorie, low carb sweetener option that's gaining popularity with dieters everywhere.There are a ton of stevia products on the market. So, how do you know which is the best stevia sweetener? How do the most popular stevia-based sweeteners compare to each other? We've done some research on the best stevia choices available on the market and put together this guide to help you know the pros and cons of your stevia choices.
The Ultimate Stevia Comparison Guide
We've put together the pros and cons of the most popular stevia brands on the market. With the guide below you can feel confident that you choose the best stevia sweetener.
Stevia In the Raw
Stevia in the Raw is one of the more popular types of stevia sweetener, and that's probably due to its availability at Wal-Mart and low cost.
Pros: Cost and availability. stevia in the Raw is available at Wal-Mart stores across the country and online, and it's one of the cheapest stevia-based sweeteners around.
Cons: Contains maltodextrin, another artificial sweetener that could potentially cause stalls on the HCG Diet.
Trulicious
Full disclosure: we're a little biased towards Trulicious as they're an official partner of HCG Diet.com. However, we also feel they offer the best stevia sweetener on the market, hands down. Trulicious is a company that believes in quality speaking for itself, and if you've tried any of our Liquid Stevia or Trulicious Powder, you'll agree. With a sweet taste that doesn't contain hidden artificial ingredients, Trulicious is 100% compatible with the HCG diet and a great way to wean yourself off sugar.
Pros: All-natural ingredients including Stevia, Erythritol, Vitafiber and Monk Fruit. Won't cause stalls on the HCG Diet. Has a higher stevia content (99% pure) compared to other stevia sweeteners. Comes in both powder and liquid forms.
Cons: Only available in some stores.
SweetLeaf
Another popular option, Sweet Leaf stevia is another easily available stevia sweetener and comes in a wide variety of lavors. Like Trulicious, it's also all-natural, although the stevia content isn't quite as high as Trulicious. Unfortunately, SweetLeaf is often much more expensive than the other stevia sweeteners.
Pros: Comes in many flavors and can easily be used to sweeten coffee, water and food. Doesn't contain maltodextrine or dextrose.
Cons: Availability. While your local health food store may carry SweetLeaf, you'll probably pay through the nose for the convenience.
---
Readers who read this also read:
---
Truvia
Finally, one of the most well-known stevia-based sweeteners is Truvia. Found in the ingredients of many products you'll find at your local grocery store, Truvia is fairly easy to find. While it's not the least-expensive option, it's reasonably priced and
However, there's a twist: many HCG dieters have reported stalling issues when using Truvia.  This could be due to the presence of artificial sweeteners and a lower stevia content. If you want to guarantee weight loss on the HCG Diet and avoid stalling, we recommend avoiding products with Truvia.
Pros: Cost and availability. Truvia is cheap and widely available in the ingredients of many products you may already use.
Cons: May cause stalls. Not recommended due to this.
The Best Stevia Sweetener: Trulicious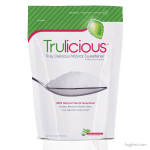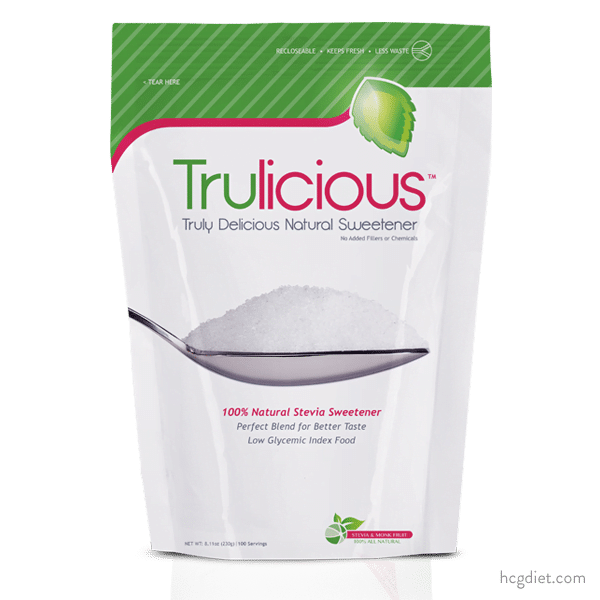 Even from an objective perspective, Trulicious beats the competition in nearly every category. The only downside to Trulicious is getting it in your hands, but with a good price, all-natural ingredients and the highest stevia content on the market, it's head and shoulders above the rest. On top of that, if you're on the HCG Diet, Trulicious won't cause a stall–a major problem with some competitors. Buy it online here.
SweetLeaf comes in second place as a stevia-based sweetener, but it can be pricey if purchased in store and doesn't have the same stevia content as Trulicious.
When it comes down to is, Trulicious is the best choice if you want to stay on the HCG Diet protocol while sweetening your food and saving money.