MY DOCTOR RECOMMENDED HCGDIET.COM
We have lost 112 pounds collectively (62 for Cindi, 50 for Wil)
My (Cindi's) doctor recommended HCGdiet.com on my annual visit in October, 2010, because she and her daughter had had success with the plan. I filed away the knowledge and when the end of year holidays were approaching I thought more and more about it.
"I WENT FROM A TIGHT SIZE 22 TO A ROOMY 16, AND WIL IS NOW WEARING 34″ WAIST JEANS"
I discussed it with my husband, Wil, who also had 50+ pounds to lose, and we decided to 'go for it'! We made our first order (26-day for him, 40-day for me) and began using the drops on January 31, 2011.
After a couple pauses of the HCG 26 Round (always remaining on maintenance) and a refill order we have lost 112 pounds collectively (62 for Cindi, 50 for Wil) and are feeling and looking terrific! I went from a tight size 22 to a roomy 16 (@ 5'9″), and Wil is wearing 34″ waist jeans (@ 6'2″) for the first time in… well, we can't remember how long.
"AFTER A COUPLE PAUSES OF THE HCG 26 ROUND WE HAVE LOST 112 POUNDS COLLECTIVELY"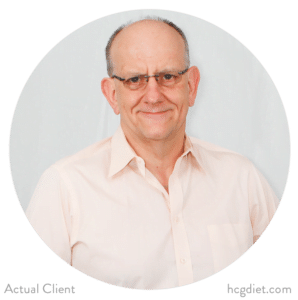 I have already had the strength of my blood pressure and cholesterol medications reduced by 50% and hope to eliminate them before too long. Because we had not said much about being on the plan we actually had friends and co-workers become concerned that we were ill when they noticed how much weight we had lost, and after sharing our success with them several have started on the HCGdiet.com plan as well.
THANK YOU, THANK YOU,THANK YOU for this wonderful product, all the support and the terrific recipes in our initial guide book.
"AFTER SHARING OUR SUCCESS WITH FAMILY AND FRIENDS SEVERAL HAVE STARTED ON THE HCG DIET PLAN."
The HCG Diet products
HCG Triumph customers have lost an average of 20-25 pounds while on the HCG 26-day kit. If you have more to lose, you can do multiple rounds of 26-day (with a maintenance phase between), or try our 40-day kit.