I REFUSED TO ASK FOR AN EXTRA SEAT BELT ON THE PLANE
Hi my name is Leighar D. I started the HCG diet in November of 2010 I was weighing 288 pounds before loading (didn't have a scale during my loading). I always considered myself "chunky" but not huge not realizing how big i really was, my turning point was when my parents and I were heading to Atlanta and the jeans i decided to wear were 16w and i barely squeezed in them to the point were when i sat down I had to unbutton it to breathe still thinking to myself it's because the jeans are new but when I sat down in the plane and was buckling my seat belt I had to release it all the way to the end and still had to hold my breathe to get it to buckle because I refused to ask for an extra belt right there and then I made a promise to myself fighting back tears to come back home to the Bahamas as small as I possibly could.
"AFTER MY FIRST ROUND I LOST 28 POUNDS"
After my first round I lost 28 pounds and didn't notice a difference at all and was very upset at myself for having to diet but even at 288 pounds i never realized i was that big until i stepped on the scale when i got to Atlanta and saw those numbers it felt like my whole world came to and end. Hcg has been a life changer because I have a skin condition called eczema and because of it I have been on steroids for years and have been gaining and gaining weight. I have tried other diets and have lost the weight but my skin flared up and I would ended up taking the steroids and not only gaining everything back but doubling it as well. Not only have i lost 96.8 pounds on the Hcg diet but haven't had to be on steroids as much as I had to and if am on it while on the diet I still lose the weight with no problem.
Leighar lost
"I HAVE LOST 96.8 POUNDS ON THE HCG DIET "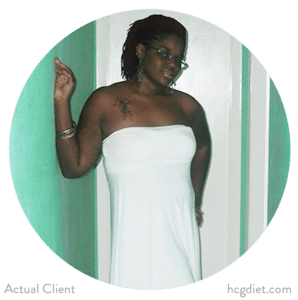 I REFUSE TO LET THIS GO TO WASTE! IT WAS A MIRACLE.
This diet has truly been a life changer for me and my family and friends around me who are also now on the Hcg diet. This really is a miracle for me and a life changer one that I refuse to let go to waste.
"THIS DIET HAS BEEN A LIFE CHANGER FOR ME AND MY FAMILY AND FRIENDS AROUND ME WHO ARE ALSO NOW ON THE HCG DIET."
The HCG Diet products
HCG Triumph customers have lost an average of 20-25 pounds while on the HCG 26-day kit. If you have more to lose, you can do multiple rounds of 26-day (with a maintenance phase between), or try our 40-day kit.