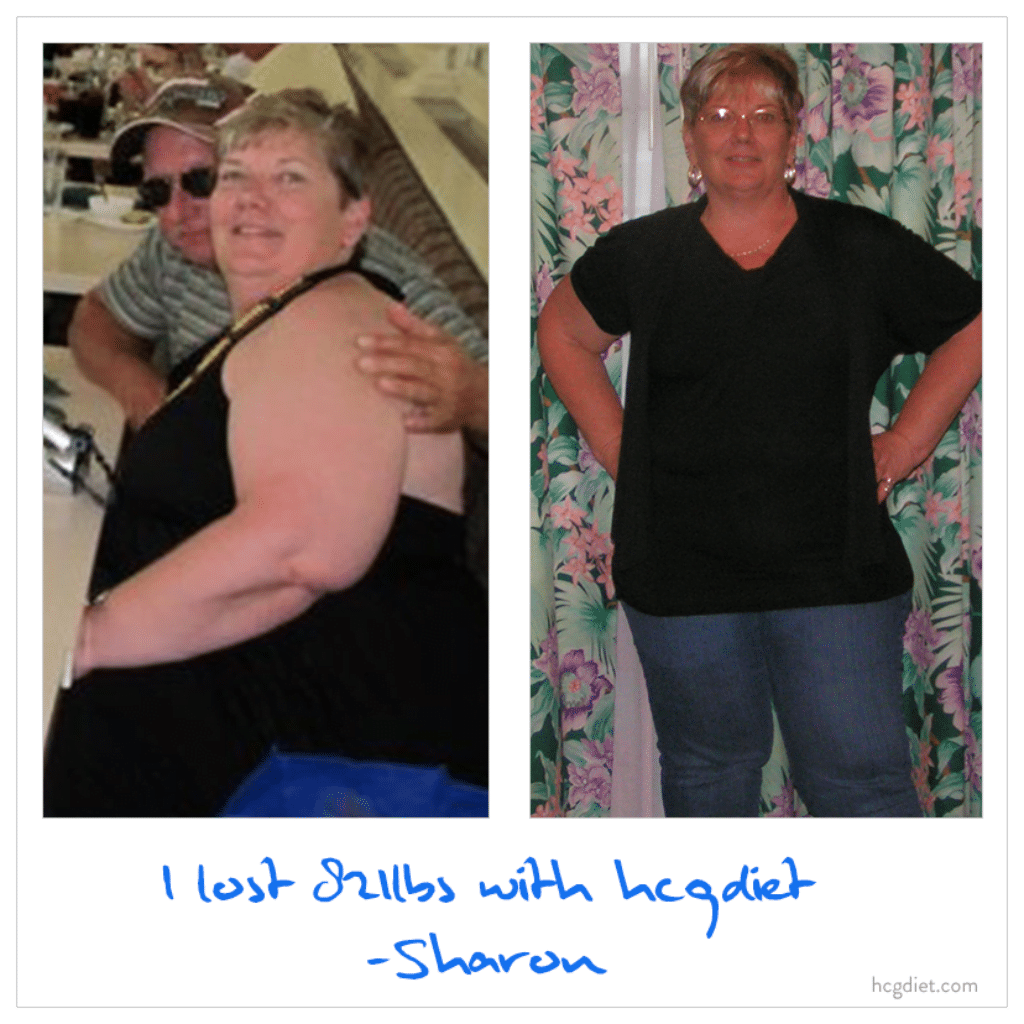 80 OF MY FRIENDS LOST A TOTAL OF 2,000LBS
Sharon has help 80 of her friends achieve fast weight loss with HCG. Collectively they have lost over 2000 pounds.
I would like to introduce myself to you. My name is Sharon L. I am 52 years old, and have had a weight problem since I was 21. In all those years there were many diets tried and failed. There was weight watchers, metobolic, nutra system, and the list goes on and on. I did manage to take off some weight, but would end up putting it back on. Looking back now, I realize, that none of them teach you how to cook and eat food without adding all kinds of additional fats to them. None teach you to weigh yourself everyday, and if you gain, you know exactly what to do to take it back off.
"I'VE TRIED MANY DIETS AND FAILED. THERE WAS WEIGHT WATCHERS, METOBOLIC, NUTRA SYSTEM, AND THE LIST GOES ON AND ON."
Pictures taken of me were NEVER seen by anyone, and there were many tears, mostly in private, after looking in the mirror. To everyone around me, I was always cheerful and happy. Little did they know I was dying inside, and hated myself. I stopped shopping at clothing stores years ago and purchased clothes I needed online instead, that way if they didn't fit, I could just send them back. When starting on HCG I was in a size 24 very tightly. 
 A friend of my daughters told me about HCG, and I immediately ordered it. When it arrived, it sat on a shelf, in my living room for at least a month. I would look at it everyday, and ask myself if I was going to go through disappointment again. Then, on May 12, 2011, I took my daughter and her family to Disney World for the day. My daughter took a picture of me, in a restaurant of all places, and posted it on her facebook page. She meant no harm, but I was mortified, to say the least. I started HCG on June 1, 2011, and haven't looked back since.
PEOPLE WANTED TO JOIN ME ON THIS QUEST.
As the weight started coming off, people would ask me what I was doing. Once they asked, they couldn't stop me from talking about HCG. Before I knew it there were 7 people who wanted to join me on this quest. I made my first wholesale purchase, and before I knew it, all the kits were gone, and people wanted more. I explain to people that fighting my weight for all those years, I want to share my personal excitement with them and want them to feel the same, without having to spend a small fortune. I now proudly show my before picture to people and they see me now 5 months later, and can't believe it. Sometimes I find myself looking in the mirror, and find it hard to believe it myself. I now have over 80 people on this quest with me, and happy to say they are all having the same results. The smile people now see from me is real, and not just a surface smile. Everyone keeps in touch by phone and facebook, and are a great support system for one another. The people near me that are on it, are of all different sizes, and everyone does cloths swapping. That way no one has to purchase new cloths till they have lost everything they want to lose. Total lose of my group of HGC dieters is over 2000 pounds!!!!
Sharon lost
"I NOW HAVE OVER 80 PEOPLE ON THIS QUEST WITH ME"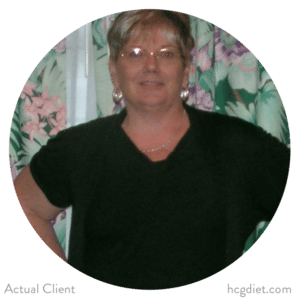 As silly as it sounds, the little things really bring excitement now. Things like being able to bend over to tie your shoes. No longer do the thighs rub together when walking, and shopping, that is an experience like no other! When people told me I really needed to buy a few outfits that fit, I went to a regular department store, and bought jeans right off the shelf that fit. I started to cry right there in the store. To some, they would never understand, but to others who have felt the way I have for 30 plus years, they know exactly what I'm saying and feeling. It is AMAZING!!!!!
I am not done with my quest yet, and will take off another 50 lbs. There is nothing to stop me anymore thanks to HCG. I am down 82 lbs and counting. No matter what comes my way in life, I know I can deal with it, for I now believe in myself. That is what HCG has given to me and no-one can ever take that away. Thank you from the bottom of my heart HCG, for changing my life forever!
Sincerely,
Sharon
"THERE IS NOTHING TO STOP ME ANYMORE THANKS TO HCG."
The HCG Diet products
HCG Triumph customers have lost an average of 20-25 pounds while on the HCG 26-day kit. If you have more to lose, you can do multiple rounds of 26-day (with a maintenance phase between), or try our 40-day kit.