By Kimber of Myhcgdietrecipes.blogspot.com
serves 8
95 calories each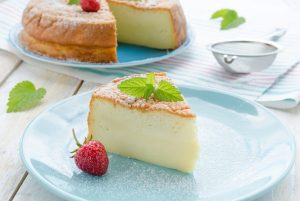 2 eggs
2 t vanilla
 1 1/2 C plain Greek yogurt
1/4 C stevia
16 oz fat free cream cheese, softened
2 T melted butter
Blend eggs, vanilla, yogurt and stevia. Slowing incorporate cream cheese and butter. Mix until well blended.
Put into a greased 10″ spring form pan and bake in preheated oven at 350 degrees for 35 – 40 minutes.
Refrigerate to thicken.
Add whatever topping you want.
For a snack, I had a slice drizzled with Walden Farm's 0 calorie chocolate syrup on top.
For tonight, I'll make a strawberry compote made with stevia to top my piece with.
Suggestions: whipped cream, nuts, chocolate, fruit compotes, etc.