serves 6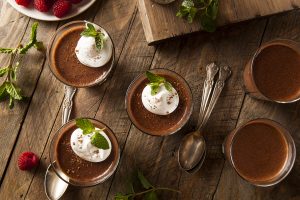 10 oz unsweetened chocolate chips
6 T unsalted butter, cut in cubes
4 large eggs or 1 C egg beaters
1/4 C powdered stevia
whipped cream sweetened with stevia
Position rack in middle of the oven. Preheat oven to 350 degrees.
Arrange 6 oven proof 6 oz coffee mugs in a baking or roasting pan.
Melt chocolate & butter in bowl, set in double broiler or metal bowl over simmering water. Whisk occasionally until smooth. Remove from heat.
In another double broiler or metal bowl, stir eggs & sugar together until warm to touch.
With electric beaters, beat egg mixture 3-5 minutes until light and fluffy.
With a spatula, fold eggs into chocolate until light and smooth. Spoon batter into cups.
Add enough VERY hot water to baking pan to come half way up sides of cups.
Bake 20 – 25 minutes or until tops of pudding are no longer shiny.
Serve warm, topped with a dollop of whipped cream.