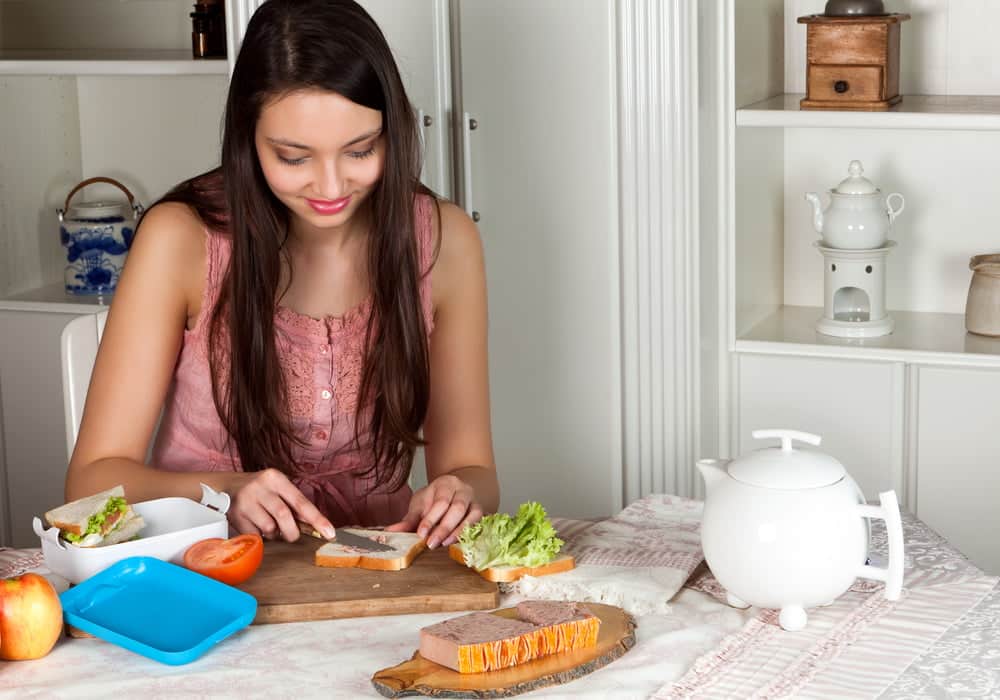 Have you ever been rushing out the door for a busy day full of errands when you remember that you need some diet friendly food to take with you? If you're on a tight schedule, cooking meals is out of the question, and since you can't pack a lunch, too often this results in you stopping for a tasteless salad, or maybe even a greasy burger at the nearest fast food joint in between errands. You had every intention of sticking to your diet… until you got impossibly busy. Dieting with a busy schedule doesn't have to be a discouraging headache. Hectic days, meet dieting on the go. Here are three tips for sticking to your diet when you have a million places to be, and no time to pack a lunch.
1. Plan a Week In Advance
If you are seriously committed to sticking to your diet, it is crucial for you to start planning ahead. If you don't already have a planner, get one. Write down all of the activities you have coming up in the next week. Of course there will be some things that come up last minute, but as long as you get a basic idea of what your schedule looks like written down, you should be able to see which days you'll need to pack lunches to take with you. At the beginning of the week, set a half hour aside to pack your lunches. Keep them in the fridge or on the counter and put a Post-It note on your door as a reminder to grab your food before you leave. Before the start of the new week, update your planner and prepare to pack your lunches. Read the next step to learn how to pack lunches for the whole week.
2. Pack Smart
Well balanced meals on the HCG Diet consist of a serving of fruit, a serving of vegetables and a serving of protein. First things first, let's talk about fruits and veggies. Packing for the whole week means stocking up on the foods you need before your diet starts. Try buying in bulk so you don't need to make frequent stops at the grocery store. Buy fruits and veggies that have  long shelf life. For example, apples and oranges tend to last longer than strawberries. Cherry tomatoes and celery take longer to go bad than lettuce.  For the sake of saving time, I recommend having two to three options for both fruits and veggies for the week. This may not be a lot of variety, but it will save you time when you're packing your food.
My favorite fruit options are green apples, Pink Lady apples, and Oranges. My favorite veggie options are celery, grape tomatoes & raw broccoli.
Since there are seven days in the week, if you are planning on packing just your lunch, you'll need seven sandwich size plastic bags and seven gallon size plastic bags. Wash, dry, and cut  up your vegetables. Remember that each serving of vegetables on the HCG Diet is 1-2 cups, and it's not recommended to mix vegetables. Place one serving of vegetables in each bag. I usually do two bags of celery, two bags of tomatoes, and three bags of broccoli for a total of seven single servings of vegetables. I place one of those bags in each of the gallon bags. A serving of fruit depends on what you choose, but if you're sticking to apples and oranges it's one piece per serving. So I place one piece of fruit in each of the seven gallon size bags.

Now for the fun part…. the Protein 
Since a lot of the time when you're running errands you won't have access to a microwave, packing your protein can be kind of difficult. You do have the option to pack canned meats like fat-free chicken or albacore tuna that have pop top lids (just make sure you have your fork and the ability to drain out the water), but the fastest most efficient way I've found to get in my protein on the go is by using Triumph Slim meal replacement shake. One scoop replaces one serving of protein. I put the powder in a dry shaker bottle and throw it in my gallon size bag that already has my fruit and veggie, then I just add water when I'm ready to drink it. It's faster than taking the time to eat food out of a can, plus it comes in chocolate and vanilla so not only does it fill me up but it tastes like an absolute treat. It's created specifically for dieters on the go.
Once you have all seven of your lunches packed, keep them somewhere that you'll remember to take them!
3. Have a Back Up Plan
Even with planning out your week and packing your meals, you're bound to have days when things don't go as planned. Don't freak out, just be sure you have a back up plan. Keep a canister of protein and a shaker bottle in your car, or know where you can get diet approved foods in a pinch. My go-to emergency spot is Subway. I get a roasted chicken salad on a bed of spinach with a little vinegar on top. It's not my first option, but it is a diet friendly option that is usually pretty easy to come across when I'm out and about. Finding a quick food option that is easily accessible helps you stay on track without eating up a bunch of your time.
What are some on-the-go meals that you pack with you when you have a busy day ahead?