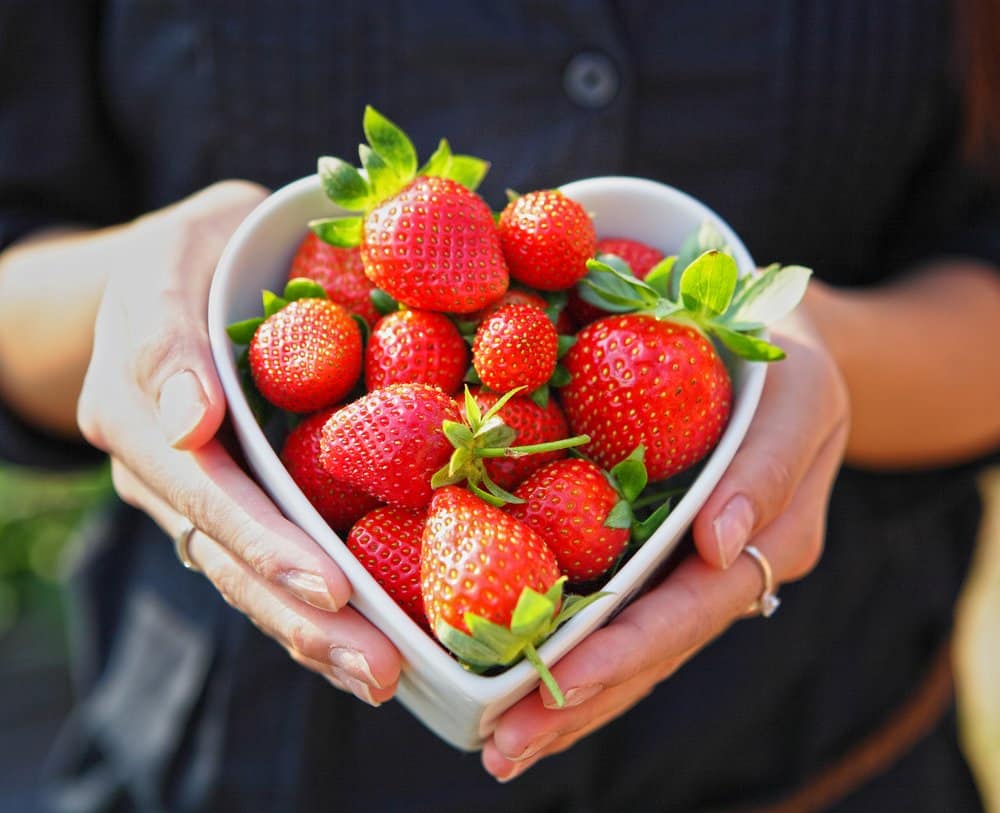 As part of national blood pressure awareness week, we're continuing our coverage of foods that are both great for your blood pressure and HCG Diet-approved. Today, we're showing you how a little one of the most popular fruits is also one of the healthiest.
You probably love the flavor of fresh strawberries, especially during the summertime. As it turns out, this delicious fruit contains some of the highest amounts of vitamins, minerals and nutrients of any fruit! Here are just a few of the benefits of strawberries.
Antioxidant Properties
One of the reasons strawberries are so good for you is they're high in antioxidants. They'll boost your immune system, helping you fight off disease and stay healthy. They'll also help your body clean out unhealthy toxins which may have built up over time.
Low Calorie
Strawberries are one of the few fruits permitted on phase 2 of the HCG Diet, and there's a great reason why they made the list: they're very low in calories. In fact, one cup of strawberries has only 43 Calories! That means you can feel free to choose them for your fruit serving with your meals and enjoy them guilt-free when you've moved on to phase 3.
Incredible Vitamin C
Strawberries are high in Vitamin C, and as explained before, Vitamin C helps reduce the risk of hypertension (high blood pressure). Getting enough Vitamin C also helps improve your immune system, boost your energy and more! Since one cup of strawberries has over 130% of your recommended daily allowance of Vitamin C, this makes these little berries one of the most powerful Vitamin C sources available.
Better Bone Health
Potassium, Vitamin K, and magnesium are all necessary for good bone health. Guess what – strawberries are rich in all three. Making strawberries part of your diet means you'll avoid problems like osteoporosis and other bone health issues later in life.
Improved Weight Loss
Here's one all HCG dieters should love: strawberries contain nitrate, a compound often used by sports professionals to increase blood flow and oxygen in the body. What does this mean if you're not a professional bodybuilder? Nitrate promotes the body's natural energy processing system, helping you lose weight and improving the already great results provided by the HCG Diet.
Craving Strawberries Yet? Here's a Way to Enjoy Delicious Strawberries on the HCG Diet
If reading about the health benefits of strawberries has you craving a few yourself, you're in luck! There's a delicious, healthy way to add even more flavor to strawberries without feeling guilty after! That's with Stevia, a healthy, all-natural sweetener that's approved for the HCG Diet.
In fact, a lof the benefits of Stevia complement the natural health boost you get from strawberries. This includes:
Lower blood cholesterol

Better gastrointestinal health

Low calorie and diabetic friendly

High dietary fiber
…And more! When you combine all-natural Stevia with the natural properties of strawberries, you can significantly reduce your blood pressure and avoid the complications of hypertension.
Here's how to enjoy strawberries with Stevia:
Cut up a bowl of strawberries into slices. (You can also eat them whole – it's up to you.)

Sprinkle a few spoonfuls of Stevia powder onto the strawberries.

Eat up and enjoy!