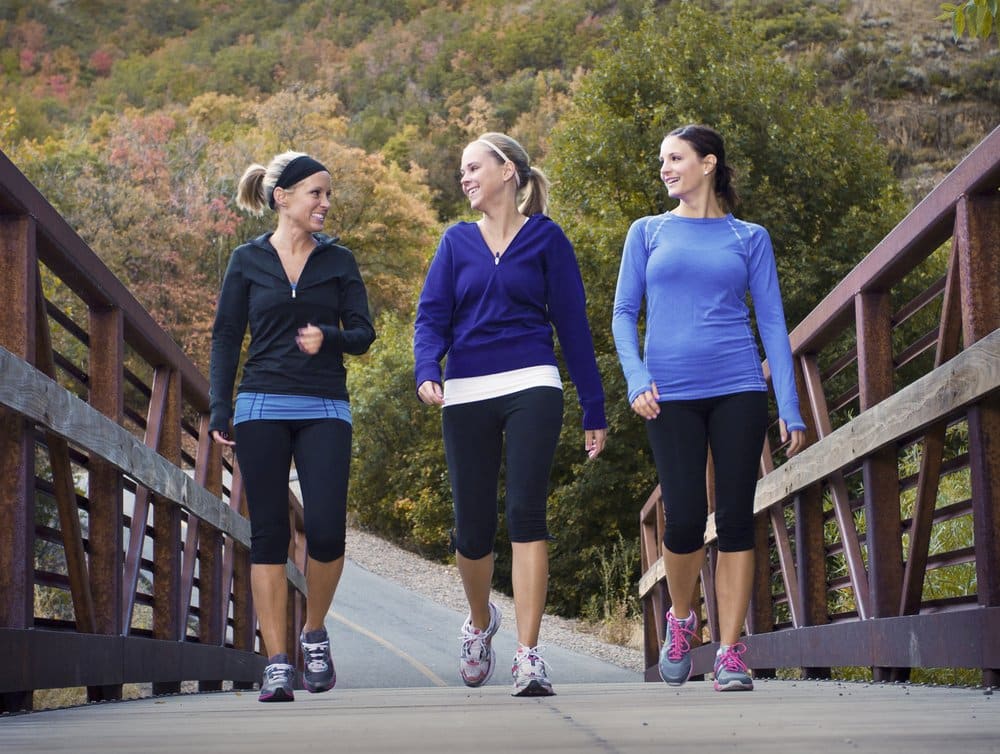 On a 500 calorie diet WHAT can you possibly accomplish that could be considered exercise? Remember, the HCG drops are helping you release the stored fat in your body, once that fat is released it needs to be burned off. While the low calorie diet helps burn some of this off, exercise can help you burn additional fat cells/the calories being released. In order to lose 1-2 pounds a day you need to be burning at least 3000 calories/day. So you will intake and burn the 500 calories from the food you are eating but doing light exercise will help you to burn the addition 2200 calories. It can also help improve your circulation, and speed up your metabolism. It's very important, however, to do light exercise! Do not overwork yourself! Even 30 minutes to an hour is a good amount of exercise time.
Participate in light workout choices that will not make you strain your body, but will help you enjoy your workout in a way that is beneficial to forming long term habits. Here are some of our favorite suggestions:
1. Walking: Pick a place with beautiful views and set your MP3 player to a motivating shuffle of songs to begin your walk. Walking is a stress-free way to get your body moving. Small adjustments in your walking routine can really help you burn calories without stressing your body out. For example, take a route that takes you up hill, holding water bottles in each hand, adding weighted ankle or wrist straps can help you get your heart rate up.
2. Cycling: Most of us have been taught to ride a bike. Hopping on the bike is a fun way to fit in some exercise, with a lower chance of damaging the joints. Once the wheels start turning, you'll be talking like a pro.
3. Yoga: Everyone is doing it; even NFL pros are doing it. This relaxing exercise really helps you find your balance in low impact, relaxing exercise.
4. Hiking: Another way to make walking more fun is to add some hiking terrain (opt for flatter areas, though, to keep impact to a minimum). Get your hiking boots on and head to the woods?
5. Swimming: Skip the pool floats and start doing laps. Swimming is a great low-impact exercise with so many benefits. The water holds your body up and provides a resistance for you to work through. Swimming laps, even using a kickboard helps you to strengthen your shoulders and improve your lung function.
6. Water aerobics: If swimming laps in the pool sounds too boring, bring the aerobics class to the water and start treading. Even trying to run up and down the shallow end can give you a good workout.
7. Rowing machine: Change up your cardio routine and try something different. The rowing is an intense and fun way to work out those arms, back, legs and core.
8. Strength training: Most strength training exercises are low-impact and still work up a sweat. (Keep in mind those monster box jumps wearing a weighted vest doesn't exactly qualify.) Try squats, lunges or Leg lifts! These will help get your muscles moving!
9. Pilates: Have you always wanted that strong, flat stomach defined with beautifully toned abs? Just roll out an exercise mat for a quick Pilates session to strengthen the core (your abdominal area) and play soft relaxing music to rid yourself of your everyday stress.
10. Elliptical: Sorry to those of you who love the treadmill, but the elliptical puts less stress on those legs. It can also tone your arms when you do the full movement.
11. Stairmaster: If you want to have more shape in your butt, you need to do an exercise that makes your butt move effectively. Or go use the real stairs near your house or at a nearby school. Just be careful for patched of ice if you live in a cold area!
12. Tai Chi: Meditation in motion will help give those bones a break so you can focus on other areas of your body. This gentle movement may help you to take away headaches, helping to improve flexibility, and relieve your stress as well.
13. Kayaking: This is a great idea for a new Hobby. Grab a kayak and find a beautiful lake! Kayaking will help work your arms and core (no crunches necessary). Don't work yourself too hard; remember this is supposed to be low impact exercise.
14. Golf: There is a reason that older people do this sport. It is very relaxing! You can also get more out of it by not using the golf cart and just walking around the course and enjoying the day away from your desk at work. Again, remember to do "light exercise"! Do not over work yourself! Even 30 minutes to an hour is a good amount of exercise time. This will help you on the diet program and also It can also help improve your circulation and speed up your metabolism. That is what we are trying to help you accomplish with this program. We are trying to help your body lose weight and keep it off.
What are some ways you workout on the HCG Diet?
Looking for more information about workout out on the HCG Diet? Check out these additional resources:
Working Out on the HCG Diet
Advice for Gym Beginners