We've all felt that urgency to drop pounds in time for a big event. Maybe it's a class reunion, a wedding, a family party, or anniversary. Whatever the occasion, you deserve to look good! Maybe you've tried other diets in the past. You exercised and ate salads but for some reason the weight didn't come off. Not seeing results is frustrating, especially when you have a deadline. There are two, rather noteworthy, solutions that are helping people lose weight quickly, and the best part is that they are both safe and natural.
Detox With the Lemonade Diet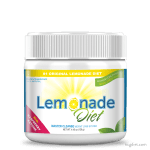 Every day we eat things that contain preservatives, artificial sweeteners, and genetically modified ingredients. Some of these ingredients contain substances that can linger in our bodies long after the foods they came from have been digested. Over time these substances and toxins build up. Unfortunately they come with a range of side effects like water retention, headaches, fatigue and problems sleeping or concentrating. A lot of these things, if not corrected or treated, can cause weight gain. It's hard to stay motivated to workout when you feel tired and bloated. That's where the Lemonade Diet drink comes in. The powerful, natural powder contains detoxing ingredients that help flush those toxins out. This way you have more energy to do the things you enjoy and less bloating from water retention. Where does the weight loss come in? Well, getting rid of water retention is part of it, but the Lemonade Diet drink also contains natural appetite suppressants and metabolism and fat burning raspberry ketones. All you do is mix one scoop of the Lemonade Diet drink powder with water and drink it twice a day with lunch and dinner. The Lemonade Diet detox also comes in capsules that can be taken with meals as well. The best part, you just add the Lemonade Diet detox to what you're already doing. You will see and feel the results.
Shed pounds with HCG Triumph
The HCG Diet was created in the 50's by Dr. Simeons. It uses a weight loss formula to unlock stored fat in trouble areas like the abdomen, thighs, buttocks, and face. When this formula is combined with a low calorie diet, it triggers your body to start burning the unlocked stored fat for energy. Nearly 60 years later, people are still using this diet as a safe and effective way to lose weight. HCGDiet.com has created an HCG formula called HCG Triumph. HCG Triumph helps support your body during the low calorie diet and helps boost your metabolism to burn more fat. Because your body is burning stored fat for energy, you are still getting the energy you need to maintain healthy day-to-day activities. Clients who have used HCG Triumph Drops have lost up to one pound per day! It doesn't get much faster than that.
Check out some of our testimonials, like Corrine. She lot 31 pounds after using the HCG Diet. She felt so much better going wedding dress shopping after going down 6 sizes!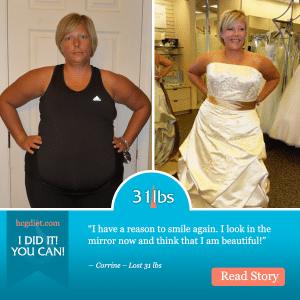 The great thing is, both of these products are simple to use and natural. Whichever one you choose, you can feel confident know that HCGDiet.com has a team of diet coaches who are willing to walk you through every step of the diet so you can make the most of your limited time.
There are hundreds of ways to lose weight, but if you're looking for fast, safe weight loss, give the Lemonade Diet drink or HCG Triumph a try!