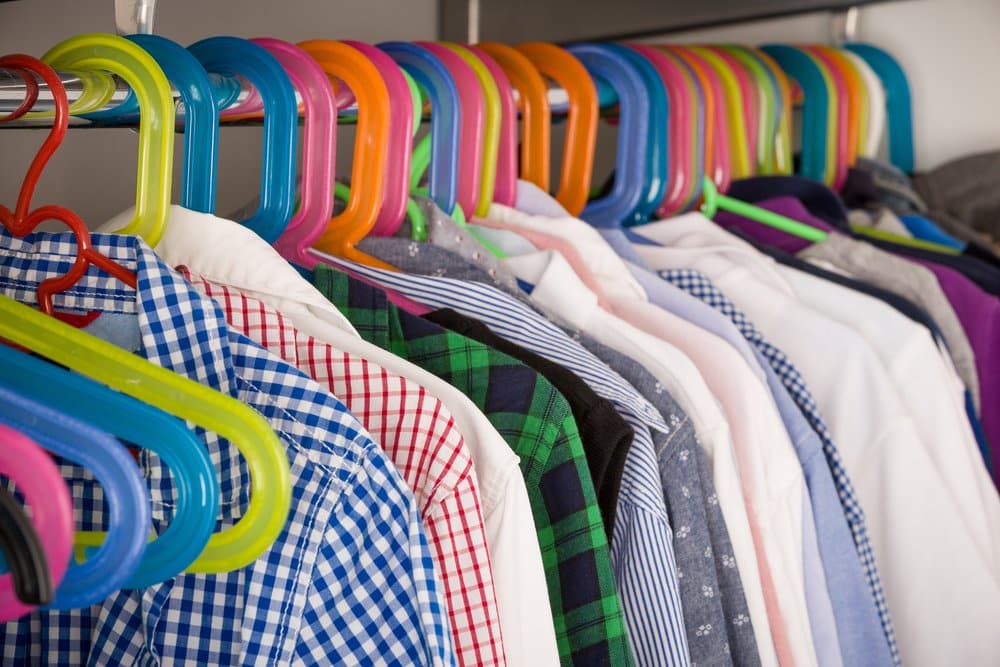 One of the consequences of losing weight is that your wardrobe suffers all kinds of casualties. How long do you hang on to and wear clothes as they seem to grow on your shrinking body? You're feeling good, and looking good can contribute to feeling even better. Here are a few tips for making over your wardrobe without breaking your budget.
Take Inventory
Taking inventory ensures you don't spend on items you already have or things you don't need. Organize your existing wardrobe into pants, skirts, jackets, blouses, and dresses. Except for workout clothes and what I refer to as "extreme casual" wear, resist the urge to make distinctions between work and casual clothes. You'll get more value from your wardrobe by opening up your options to dress up and dress down.
Identify Your Must Haves 
Anything that does not make you feel good about yourself has to go. Every time you try on something that doesn't flatter, that is not only time wasted, it also chips away at your self-image. Not sure if something looks great? Enlist help. Some moms have friends who tell them whether or not something is better off retired. I have an 11-year-old daughter. Much as I hate to admit, her fashion choices are usually correct.
Step 3: Play Favorites
The standard rule is to toss, donate or sell anything you haven't worn in a year, but there are exceptions to every rule! I keep certain favorites around, just in case. (Keep reading!) Send things you can't part with to the back of the closet, or better yet, to another room entirely so they don't take space in your now clean and organized closet.
Step 4: Identify Must-Haves
Make a list of key items depending on your work and lifestyle. I need a lot of jeans, colorful form-fitting tops for TV appearances, and just a few business/formal basics like black slacks, a white shirt, and a nice jacket. If any of your essentials need replacing, put these on your list first, and plan to spend the most on these (but only if you have to, more on that later.)
Step 5: Flip and Click
This is the fun part. Get your favorite beverage and head to a well-stocked magazine rack or public library. As you flip the pages pay attention to styles you already know will flatter you and fashions that show up over and over. Think about how things you already own can be incorporated into new outfits. Catalogs are another great source of what's hot in a particular season. If you don't get catalogs shipped to your home, go to the online stores to see what everyone is wearing. I also like to tape morning television shows, which have a fashion segment almost every day.
Step 6: Choose Your Trends
With the latest trends in mind, add to your list those fun seasonal pieces you're going to incorporate into your wardrobe. Don't forget to check the back of your closet for one of those favorites you've put away in seasons past. I recently pulled out a great vintage lace dress and a metallic knit cardigan. I haven't worn either in years, but they both look like they're ripped from a page of any recent fashion layout. 

Step 7: Swap and Shop Resale
Some moms save a lot of money by swapping clothes with friends. I like this idea for certain essentials—suits and little black dresses—but I prefer to get my gently used clothing from a consignment store. Armed with your list of essentials and trendy items, hit your best local resale shops. Remember to factor in the cost of any alterations.
Step 8: Hit the Web
Online shopping is great, especially if you know certain brands that fit your body well. Sites like eBay and Craigslist can be an inexpensive source for fun fashion items. You can also often snag great deals by signing up for new accounts or subscribing to alert or newsletter lists. Always search for promo codes before you checkout.
Step 9: Never Pay Retail!
Your next stop for wardrobe updates is traditional retail outlets. Start first at discount outlets like TJ Maxx and Marshalls, and then head to the department and specialty stores. Take advantage of coupons and rewards points if you have them, and use your smart phone to search for coupon codes before you get to the register. Always ask the cashier if there are any coupons he or she can scan for you.
Step 10: Document Your Best Looks
Whether in a journal, on your phone, or file in your computer—make note about or take pictures of outfits you love. In a busy mom's morning, it's easy to forget a fabulous combination you put together on a particularly good day. Having a record of great looks ensures you'll always feel great about yourself when you step outside your door!
What are your wardrobe updating secrets?

Our Beach Body bundle has been so successful in previous years, it's created somewhat of a problem for our dieters: once they finish the diet, they've lost so much weight they need to buy an entirely new wardrobe. And let's be honest – when you slim down, you'll look too good to wear sweatpants to work. You'll want clothes that look great; clothes that show your friends, family, coworkers and more how much work you put into your diet and how successful your efforts have been.
However, buying a new wardrobe can be somewhat expensive. Fortunately, there are plenty of ways to find attractive clothing for the new you that won't be ridiculously out of your price range. Here are some of the top tips to finding a new wardrobe on the cheap after your diet.
Thrift stores
This one is the most obvious, so it's the one we'll start with. Thrift stores are an excellent way to get a ton of new clothes inexpensively. It takes a little bit of work to find the best deals – usually, you can't simply show up on any random day and expect to find your perfect clothes. But if you try checking out a few of the thrift stores in your area a couple times a week, you'll almost always find an outfit that flatters your new body.
Close that always look good
One of the secrets to being able to find inexpensive clothing is finding clothes that always look good no matter what season or year it is. This means avoiding extremes in colors, styles and more, and instead finding a style that's your own and then building a wardrobe based around that. An easy way to do this is to develop a personal color palette. Which covers look best on you? Which colors seem to define you?
By creating a palette of colors that all of your clothes fit in, your clothing will be much more versatile, You will be able to mix-and-match easily, and you will know whether or not a piece of clothing you're considering is something you will actually wear once it reaches your closet. Plus, if you develop your own style and colors, you will it will be easier to shop at thrift stores and closeout stores. Which brings us to…
Closeout racks
Just because the season is over doesn't mean it doesn't look great. If you shop carefully, you can find deals that outlet stores and on closeout racks it will look at any time of the year. Just like outlet stores, check these frequently to take advantage of the best deals.
Go online!
Finally, the Internet has become an incredible resource for people trying to find new clothes. Every store is a little bit different regarding size, so try to buy clothing from the online store that has a good return policy. You may need to exchange an article of clothing a few times before you get it right, but when you do, the savings and how great you will look make it completely worth it.
Hopefully, these tips will get you thinking about two things: first, how great it will be when you've lost weight you can find me where those clothes you dreamed about, and second, ideas to help you find where you going to actually purchase a new wardrobe.